Rouleuse JCH
Bienvenue chez DIXIN,



nous sommes votre rouleau de câble circulaire arc glacé tuile faisant la machine maintenir expert.
PRODUCT SHOW



Rouleuse JCH
/ Rouleau de tôle de toiture Rigge formant la machine / machine de formage de rouleaux
| | |
| --- | --- |
| 1.Suitable material | Color steel sheet , galvanized steel sheet,aluminum sheet |
| 2.Installation Dimension (L*W*H): | 6.5m*1.5m*1.4m |
| 3.Main motor power | 3KW with Cycloidal reducer |
| 4.Hydraulic station power | 3KW |
| 5. Hydraulic oil pump | CB-E 310 |
| 6.Thickness of material | 0.2mm~0.8mm |
| 7.Diameter of principal axis | Φ70-90mm |
| 8.Material expand width | 1000,1200,1250mm |
| 9.Electric tension | 380V 3phase 50HZ or as the customer's requirements |
| 10.Material of roller | High grade 45# forged steel plated with hard chrome plating |
| 11.Controlling system | PLC |
| 12.Processing speed | 3-6m/min |
| 13.Processing precision within | 1.00mm (depend on design) |
| 14.Material of cutting blade | Cr12 mould steel with quenched treatment |
| 15.Kind of drive | 0.6 inch chain link bearing model 6210 |
| 16.Roller station | 8-20 Rollers |
| 17.Roller material | high grade 45#steel; Cr12 quenching |
| 18. Leak frame load-bearing | 4.6T |
types de profileuse de toiture: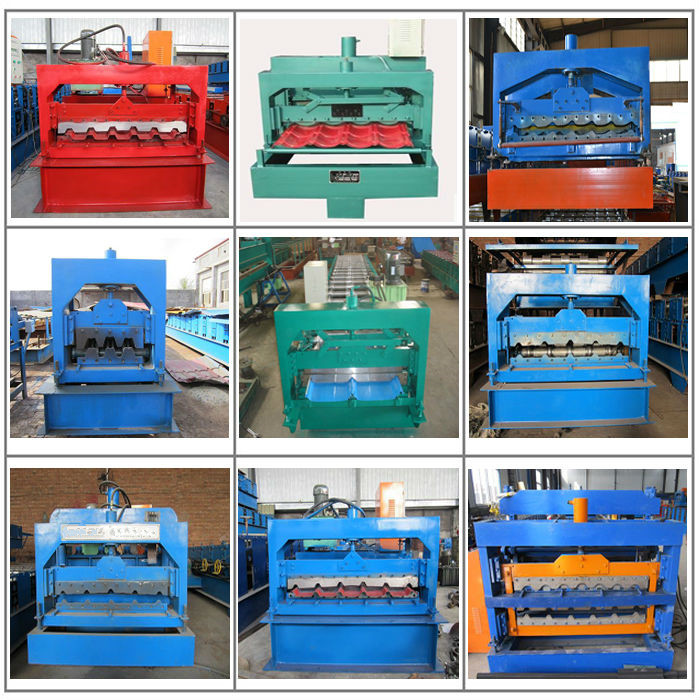 À propos de nous
Cangzhou Dixin Roll Forming Machine Co., Ltd, notre société est la principale et principale fabrication, peut fabriquer, concevoir, installer et déboguer diverses machines de formage de rouleaux et des équipements de feuilles de traitement des métaux, qui produisent des panneaux muraux en métal, tuile vitrée, acier CZ panne, planchers, capuchon de toit, panneau sandwich, rtruss de toit, panneau de volet, latte de volet, cadre de porte, garde-corps et dérouleur de tôle, pliage, refendage, découpage, aplatissement, poinçonnage, sertissage. en particulier peut concevoir la machine en fonction de la demande du client.


Détails de l'' emballage --.
1. Serrer au conteneur avec un câble en acier et du fer ange soudé.
La machine de formation 2.Main et unciler est nue (si vous avez besoin nous pouvons également emballés avec le plastique imperméable à l'eau)
Le système de contrôle de PLC de la machine de formage de 3 .Roll et la pompe de moteur sont emballés avec la couverture en plastique imperméable à l'eauPortTianjinLead
Heure: 30 jours après votre pré-dépôt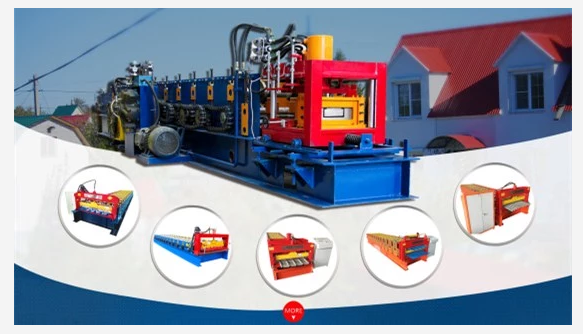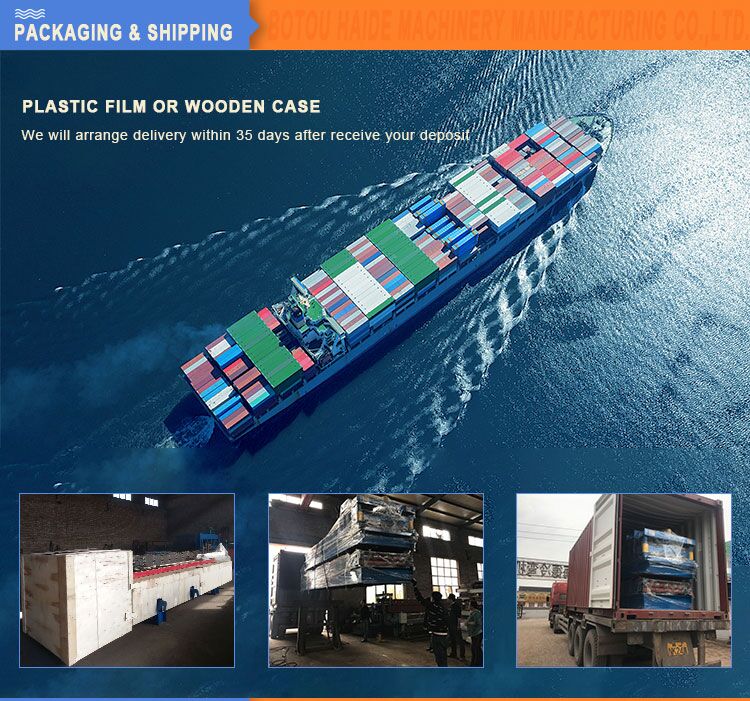 Notre service après-vente
1. nous pouvons produire la machine spéciale, envoyez-nous votre dessin, nous pouvons concevoir pour vous.
2. si vous achetez nos produits, nous pouvons également vous aider à acheter le matériel, comme le rouleau de couleur, le prix est inférieur à celui que vous achetez par vous-même.
3. nous fournissons une garantie d'un an et un support technique à vie, nous pouvons envoyer nos techniciens à vous pour vous donner une formation sur site.
Le stage ne durerait pas plus d'une semaine, le client payant le visa, le billet de retour, la nourriture, l'hébergement et un salaire journalier de 100 dollars.
4. ingénieurs disponibles pour entretenir les machines à l'étranger.
5. si vous venez visiter notre usine, nous pouvons réserver la chambre pour vous, voiture ramasser pour envoyer.
Merci de visiter nos produits, si vous avez un intérêt, veuillez laisser votre message, ou vous pouvez nous contacter, un design spécial est disponible!
Les données réelles, l'équipe de commerce extérieur la plus professionnelle, votre meilleur partenaire fiable.
Si vous souhaitez obtenir plus d'informations sur nos équipements,
N'hésitez pas à contacter Nancy
Tel : 8615227219783
Wechat: DX15227219783
Whatsapp: 15227219783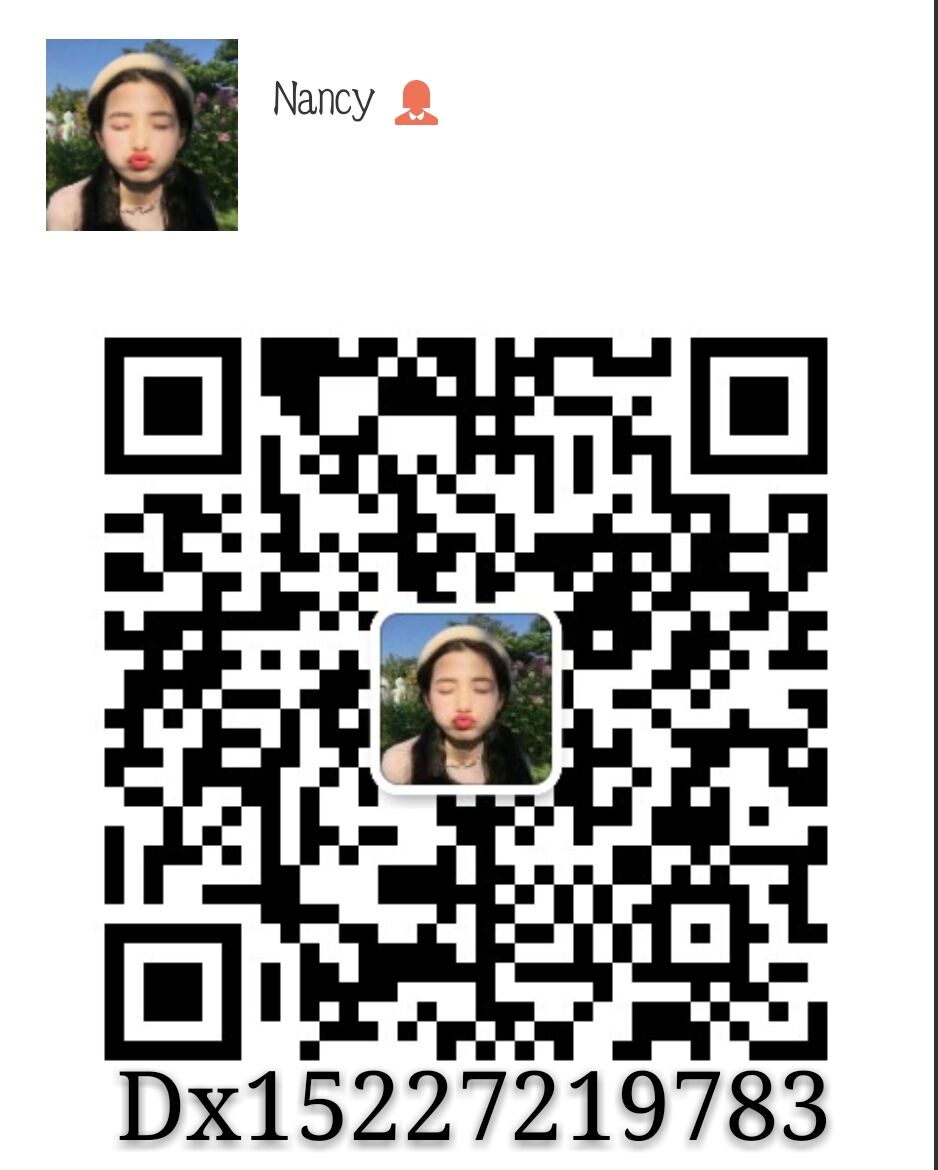 Groupes de Produits : Petit pain de panneau de toit et de mur formant la machine